Windows 8 CP is now available for the general public a few days back. Windows 8 is the most upgraded OS available now days. It has some remarkable features. Some of the important features and apps are Windows Store, Metro Start, Explorer Ribbon, revamped Task Manager, and File History. In these, Windows Store is the most important feature because it helps the user to make installing an application an easy job that was a problem in the previous versions.
If you want to install apps then visit: Install Metro apps in Windows 8
For the beginners the windows store seems to be a destination from where you can download any kind of applications. There is a lot of free as well as paid application available for the users by Microsoft. It is a very easy task to download an application, as it just requires you to link your email address to be linked to the Microsoft. Once connected one can know how easy it is to download an application using Windows store.
As some of you might be sharing your PC's with your friend, family etc. so you can restrict them from downloading any application on your computer. You can turn the Windows store off or simply make it disable by some modifying policy settings.
As now you can disable it, here are some steps, which might help you in getting this process done. Once you are done with the disabling of the application then whosoever will then try to connect or launch it will receive a message that is "Windows Store isn't available on this PC. Contact your system administrator for more information".
Steps to Disable Windows Store Apps in Windows 8
Step 1: For disabling, you have to first open the Group Policy Editor. Press the Windows + R key, this will open the RUN dialog box. Here type gpedit.msc and press enter key. This will open the Local Group Policy Editor.
Step 2: Direct to Computer Configuration then to Administrative Templates, from there go to Windows Templates and then to the Store in the Group Policy Editor.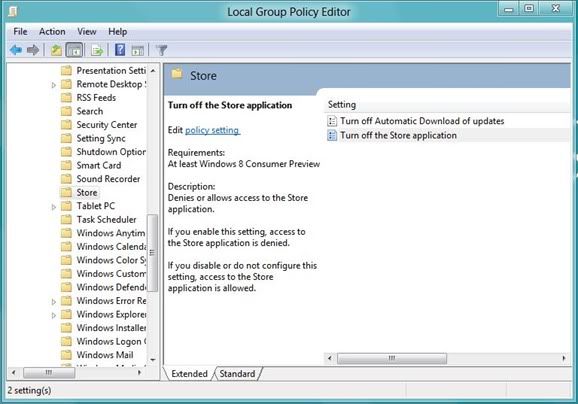 Step 3: You will see Turn off the Store application entry on the right side. Using mouse double-click on that entry. When you do this a window will open select ENABLED and then click APPLY button.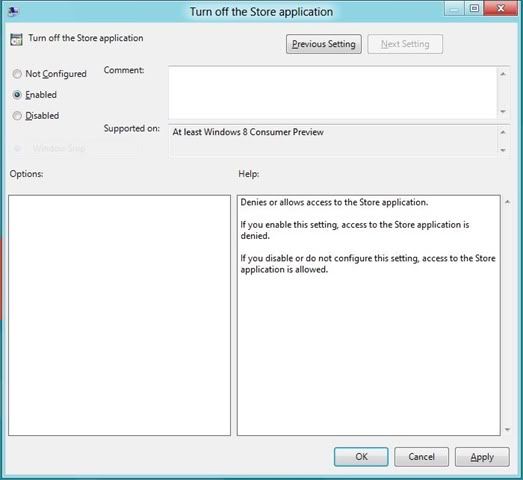 Now LOG OFF and then LOG ON to see the changed settings on your computers. Now when you will open the store you will get a message "Windows Store isn't available on this PC. Contact your system administrator for more information".