Windows 8 have a new feature in it. It can support the touch gestures and can work accordingly. This can be the main reason for its popularity. Windows 8 offers a touch screen keyboard, which is especially designed for the tablets and other touch sensory devices. this is a powerful feature and comes in two formats according to the user requirements. The keyboard has two modes, which are
A full-sized keyboard with large buttons
Thumb keyboard with split keys.
The touch keyboard is a unique thing, but windows also provides suggestions regarding the typed words which helps to increase the speed  of typing, adds space automatically after selection, in this way helps the user to work more quickly.
The tablets users might know that the keyboard makes a beep sound when any key is pressed or used. The sound is for a good purpose but it may disturb you when you are listening to music and working at the same time. The users who want to turn the sound off can follow these steps to get the required result.
Steps To Turn Off Touch Keyboard Sound in Windows 8
Step 1: Take from the right side of the screen and open the charms menu. For those user who are using it on desktops can us their mouse to move to upper or lower right corner of the screen or use their keyboards to press Windows + C keys to see the Charms bar.

Step 2: Select settings and then click or tap (if using on tablet) Change PC settings to open PC settings on your screen.
Step 3: Select GENERAL in left-pane of the screen and there you will see lay key sounds as I type. Those users who are using windows 8 on non-touch devices cannot access this option.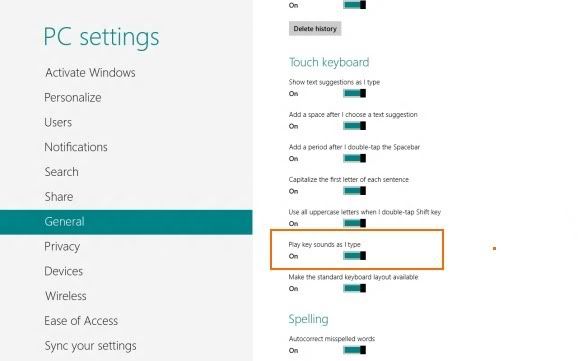 Step 4: Move the slider to the left to turn the sound off, if you need to turn it on slide to right to enable sound.