Do you really want to get rid of an Android smartphone? Conceivably you already got a new one and that is primarily the reason that you would want to sell or give away the old one simply. Or you recently got a new handset and later on you find out it's not exactly what you want and you are looking forward to return it to the store or the person who carries it.
Despite the fact whatever the reason may be, you must always expunge and reset the device. Majority of the people think that just doing a Factory data reset will remove everything and return the smartphone to a fresh state. There are chances that would still be personal data prowling on the device or the SD card, if there is one present within it.
You can surely not count on the store, carrier, or re seller in order to erase the data for you, best idea is to clear the data on your own. This guide will let you walk through backing up your data and apps, erasing all the internal storage and SD card that is the part of the smartphone, and after that you may proceed with resetting the phone.
How To Completely Remove Data and Reset Android Phone
Backup Android Data
If you have turned on Android's built-in Backup and Restore already (it's an option that lies under Settings > Privacy) then your apps must automatically be backed up on Google's servers and should restore when you proceed with activating your new phone.
'Should' is the word used here because this process doesn't always work completely and might encounter an error. And it only works with apps, not SMS, MMS, contacts not saved on your Google account, and some other settings.
It is suggested that a backup of your own just in case Google doesn't restore everything you want it to store and you might want to keep your existing text messages and other data that is of great importance to you.
Step 1: The first thing to do is Download and simply Install MyBackup from the Android Market.
Step 2: After that you need to Tap the Backup button and then Applications & Media. The app will provide you with an option of Local (internal storage/SD card) or Online. Here, you need to Choose Local.

Step 3: Third step is to check On the next screen, here you tap the checkbox next to "Select All" for both Apps and Photos. After that Tap Ok.
Step 4: Choose a backup name or go with the one auto-generated by the app. Pay attention to where the app says it will place the file. It's usually a folder on the SD card.
The backup can take several minutes to complete, especially if you have a lot of apps and images.
Step 5: When you come across MyBackup's main screen, you must tap Backup again and here choose Data. Again, you must choose Local.
Step 6: You'll see a list of data available for backup including Call Log, SMS and MMS, Settings, Home screens, Alarms, Playlists, and more. Check off what you want to keep then click Ok.

Step 7: You need to choose a backup name or go with the one auto-generated name that is done by the app. Make sure that you pay enough attention to where the app says it will place the file. Generally, It's a folder on the SD card.
Step 8: Once the backup is complete, you must connect your phone to your computer with a USB cord and after that open it in a file explorer. This will provide you access to the internal memory with media files and app data and/or the micro SD card that is installed.
Step 9: You are required to create a folder on your computer for the backup and here you must copy all of the files and folders to it. You must make sure to get the folder where you stored the backup (all the data that you wanted to store).
Step 10: The last step that you need to do is unplug the USB cord.
Erase the SD Card and Internal Storage
A Factory Data Reset will erase the installed apps and some of your data, but you need to take a few steps in order to ensure that all of your personal files are completely gone and no one else has a clear access to them.
Note: It must be kept in mind that various Android devices and versions use slightly different wording from the other. If you don't come across exactly the terms in the steps or screenshots you should at least see something closer to the one you are familiar with.
Step 1: First of all you are required to erase the micro SD card by simply going to Settings > Storage and looking for the SD Card heading. Here you need to Tap Format SD card and do the same again on the confirmation page.
Step 2: Second step is to go to "In Settings > Storage look for the Internal Storage or USB Storage heading and tap Format Internal Storage or Format USB Storage" Here you need to confirm on the next screen.
Note: It must be noted that some phones do not offer this second option that is mentioned above. In these instances, the Factory Data Reset should erase and reformat the internal storage that is present.
Have you been going crazy specifically about the data on the SD card? Then you are required to take a few extra steps in order to make sure the data there is gone and no one can in any way retrieve it. (if you're not paranoid about this whole thing, you have the option to skip to the next section.)
Step 3: Here dear Windows users, download Roadkil's Disk Wipe utility (free) and install. Mac users, you just need to open the Disk Utility (under Applications > Utilities).
Step 4: Simply remove the micro SD card from your phone and, by means of using an SD card adapter, just insert it into your computer's card reader.
Step 5: In case of  Windows: Use Disk Wipe to write random data on the disk; 7 passes must be fine.
For Mac: You just need to Click on the SD card on the left, after that Erase at the top of the main screen. At the bottom, you are required to click Security Options for secure erase options. The 7-Pass Erase does just fine for the fulfillment of this purpose.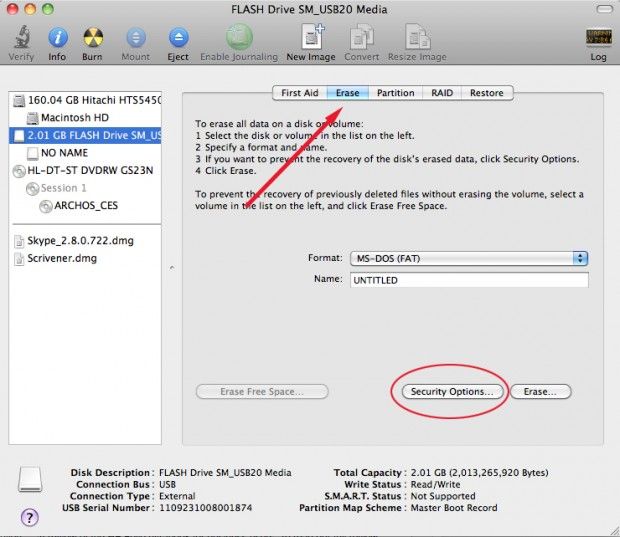 But, hey make sure to pick the correct disk before you proceed with erasing.
And yes, Don't put the card back in the phone just yet, it's not the time.
Factory Data Reset
At last we are looking at the final step and the one that would be last too. After this you would be all ready to pack up the Android smartphone and after that send it back to the store or on to the one who is the new owner.
Step 1: First step is to Go to Settings > Privacy. You are required to Uncheck Back up my data and Automatic restore (if that is applicable in such case).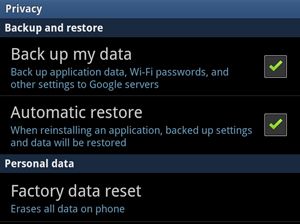 Step 2: Then you are required to Tap Factory data reset. 
Step 3: Once the confirmation screen appears you might get prompted to format or erase the internal/USB storage and/or the SD card that is present in the smartphone. There's no harm in doing this once again, so proceed with and check those. After that simply tap Reset Phone.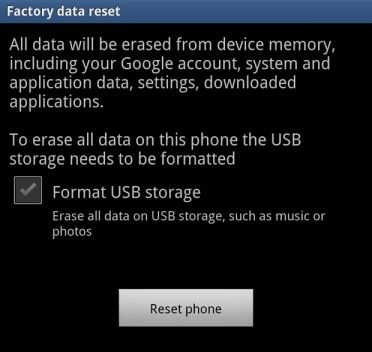 Step 4: The device will then shut down and begin to reboot. Once it restarts you can simply turn the phone off.
Step 5: If you have removed the SD card in order to erase it, insert it once again now.
If you're planning to get a new phone or Android device and you had Automatic Backup on, your apps and some media will automatically show up on the new device once you simply enter your Google account information in to the phone. Any of the data that doesn't come back, you have the option to simply restore using MyBackup app.